Intro
For Disney fans who have always wondered what it would be like to live in a Disney or Pixar movie, Disney Dreamlight Valley may be the closest real-life version of that experience.
Dreamlight Valley is a free-to-play game that allows you to play as yourself and live in a fully customizable world! The main story campaign will allow you to bring characters from Disney and Pixar movies and have them live in your city, which will enhance the life simulation aspect of the game.
The free-to-play title is a major collaboration between Disney and Gameloft, and marks Gameloft's entry into the PC and console space. It will be a huge game with 40-60 hours of gameplay in the main story.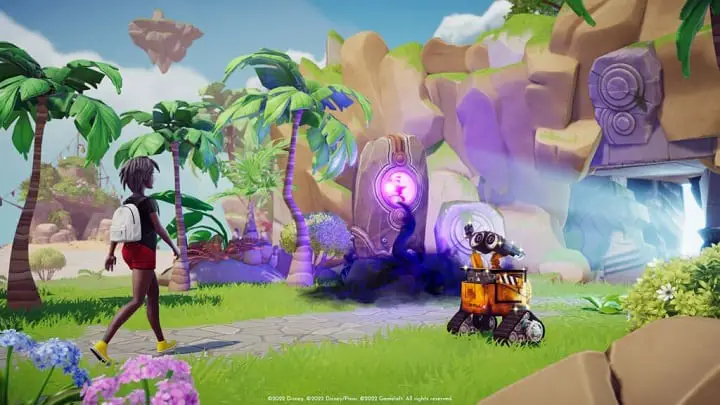 The Plot of Disney Dreamlight Valley
Disney Dreamlight Valley might seem like a nice simulator on the surface, but the beginning of the game is actually a mysterious adventure that leads you to save the valley from darkness — which then becomes the beautiful simulator. At first you meet Merlin, who hopes you can help him recover his memories and understand what happened in Dreamlight Valley. You will be quickly introduced to your mission and learn some basic moves to reach the game's main hub, Dream Castle.
The Dream Castle (The Dream Castle) is the center of the valley and serves as the gateway to all the Disney realms we know and love from the movies. After the valley fell into darkness, Disney and Pixar characters fled to their realms, and it's up to you to bring them home.
Missions keep you immersed in the world by describing Disney characters in the context of their universe and not just in their movie titles. For example, once Merlin shows you how to unlock the first door to a kingdom, he asks if you want to visit "a desolate planet with a timid robot" or "the ocean with a demigod."
Players unfamiliar with these Disney films will be curious about the worlds that await them, but if you are a Disney fan you will already be excited to know that you are about to visit the worlds of Wall-E and Moana, respectively.
There will be a total of four kingdoms to play when Disney Dreamlight Valley is launched in Early Access this summer. Gameloft has confirmed Wall-E and Moana as two of the four early kingdoms available, while the other two remain a mystery for now.
Who will you be in Disney Dreamlight Valley?
You are an avatar that you can customize according to your wildest dreams. You are your own Disney character living in this world, even to the extent that you can feed and tame little rabbits and squirrels so that they follow you around as if you were a Disney princess.
You can customize almost everything, including your choice of body type, body shape and skin color. The wardrobe menu includes your basic tops, pants, shorts, and shoes, but also options for hats, masks, glasses, jewelry, gloves, socks, and even full costumes.
Finally, you can also wear Mickey Mouse ears.
If none of the clothing options strike your fancy, you can also create your own wardrobe from scratch.
What Platform will it be released on?
The Game will be released on almost all platforms, including PC, Mac, Nintendo Switch, PlayStation 5, PlayStation 4, Xbox Series X, Xbox Series S and Xbox One consoles.
The PC and Mac versions will be released on Steam, Epic Games Store, Microsoft Store and Mac App Store.
Dreamlight Valley Release Date
Disney Dreamlight Valley will be available through early access this summer on Mac, Nintendo Switch, PlayStation 5, PlayStation 4, Windows PC, Xbox One and Xbox Series X. It must be said that early access will be pay-as-you-go, so to play as early as this summer 2022 you will have to pay. While the full launch is currently scheduled for 2023.
How much will Disney Dreamlight Valley cost?
As mentioned above the game will be f2p so free, but like most free-to-play games, it seems that Disney Dreamlight Valley will not be totally free. Apart from the fact that players must pay if they want early access, there will be other monetary transactions that can take place.
Hidden well within the game's website, Gameloft states that "Disney Dreamlight Valley will have purchasable expansion options to enhance your game." This implies that while the title will be playable without spending real money, there will be some things that players cannot have unless they are willing to spend real money.
Conclusion
Disney Dreamlight Valley could end up being a wonderful free-to-play life simulation game for those who love or have a soft spot for Disney and Pixar characters.
It could also be a wonderful addition to the ever-growing list of upcoming games in the Disney video game franchises, including Kingdom Hearts 4 and Disney Speedstorm. and who knows, it may be the first Disney game to make it onto our list of the best ps5 games.
However, the addition of premium items that must be paid for with real money can leave fans with a bitter taste in their mouths. Hopefully, Gameloft and Disney will not get too greedy with their premium content and fans will still have a game to enjoy without having to spend too much money.