Intro
FUT Heroes are special cards released for the first time in FIFA 22's Ultimate Team. These FUT players are cards based on a selection of very strong players who have retired from playing soccer. All selected players have made significant contributions to their clubs and internationally with great performances.
In FIFA 23, we will find as many as 21 new heroes joining the previous selection, granting us even more options to improve our FUT team. These players whose fame is great but not at the level of legendary icons have made a major impact at their clubs often through performance in specific soccer events.
This year, a fantastic partnership between EA Sports and Marvel has been formed with the goal of bringing back some of the fans' most beloved soccer players, which will transform the new FUT Heroes into fantastic superheroes. For the first time on FUT, instead of photos of real footballers on the 21 FUT FIFA World Cup Heroes player cards, we will find a series of special illustrations that will turn footballers into superheroes.
These FUT Heroes cards are those of some very strong past players that will help us build very competitive teams. As a reminder, at the understanding threshold level, FUT Heroes players will count as two players in their league. This particular one will allow us to strongly enhance the understanding of players in their own league. It will therefore be an electrifying way to lead to the creation of new combinations of players in FUT player lineups.
In this article we will look at everything we need to know about these new cards and superhero descriptions made by EA Sports and Marvel, so that we will find ourselves prepared for the release of FIFA 23.
FIFA 23's new FUT Heroes cards.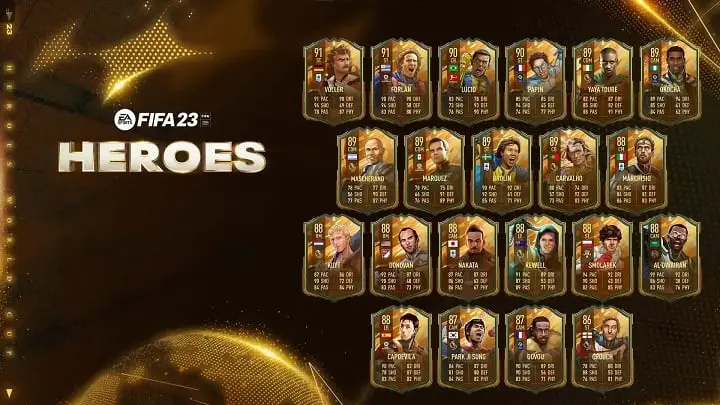 Some of the most fan-loved champions will return to the field in FIFA 23 Ultimate Team in the form of FUT Heroes. These special items celebrate the unforgettable moments in the careers of 21 players that made them famous among the fans of their respective clubs. FUT Heroes cards will be available in the game from the official launch. These players will also have an additional special Hero FUT FIFA World Cup version starting Nov. 11 to celebrate their performance on the world's biggest stage.
Let's take a quick look at the new special cards of FUT heroes, and the reasons why they were chosen.
FUT FIFA World Cup heroes with at least 90 rating
Let's start with the absolute strongest heroes, they are 4 very strong players who have all had a background in Serie A. We are clearly based on their FUT Heroes FIFA World Cup version which is stronger than the basic one. The strongest are Rudi Völler and Diego Forlán with 91 overall, they are followed by Lúcio and Jean-Pierre Papin with 90 overall.
Rudi Völler – The Flying German – 91
We start with the superhero The Flying German, a strong striker based on the legendary Rudi Völler, a complete striker who is very strong inside the area. In his career he won a World Cup in 1990 and a Champions League with L'Olympique Marseille in the 1992-93 vintage.
Völler was a sensational striker, capable of winning the Bundesliga scorer's list and the Footballer of the Year award in the 1982-83 season. He scored 47 goals in 90 appearances with the national team.These include the three goals he scored in the 1990 FIFA World Cup won by West Germany, which allowed him to be in the starting eleven for the final.
His card on FUT is really very strong, and as a league he has been assigned Serie A, since the club he has spent the most time at is Roma, with whom he has played 142 games. His new card has really strong stats for a pointer as we see from the speed, shooting and physical values (91, 94 and 87), but the dribbling value is also very reliable (90). His stats in any case make him currently the strongest striker in Serie A, and he will also be great for creating a hybrid Serie A and German nationality squad. Instead, the basic version is 89 rating with slightly lower stats, as the league has the Bundesliga.
Diego Forlán – Sunstrike – 91
With 91 rating, tied with Rudi Völler, we find Sunstrike, the superhero of the Uruguayan national team, also known as Diego Forlán. The most important trophies he has won are the Uefa Europa League and the UEFA Super Cup, both with Atletico Madrid.
In 2010, Forlán proved that he always comes ready when there is a fight. The striker starred in the UEFA Europa League final with Atlético Madrid, in which he scored a brace and won the man-of-the-match award. "El Cacha" then rose to prominence in the 2010 World Cup, where he won the Golden Shoe as the top scorer in a tie and scored the tournament's top goal. His goal with the spectacular volley from the edge of the box in the final for third place entered the hearts of many fans.
This FUT card is also very strong, and as a league he has been assigned La Liga, since the club he has spent the most time at is Atletico Madrid, with whom he has played 134 games. His card is very complete for a point, he has very solid values of speed, shooting and dribbling (90, 94 and 90). He also has a very good passing 83 and physical 80, which make him useful in making assists to teammates. His basic version with 88 rating is also very strong, although the stats are somewhat reduced. A very strong player for LaLiga who will surely be very expensive and much used in the rosters based on this league.
Lúcio – The Thunder – 90
After two spikes, we see The Thunder, the strongest central defender in the new Hero cards. Lúcio has won many trophies, including 3 German championships with Bayern Munich, the World Cup with Brazil, and the hat trick with Inter Milan in the 2009-2010 year.
Lúcio was a fast, physical defender famous for his ball-and-foot forays; he was the terror of opponents with his decisive entrances and inexhaustible energy. He played like a true hero every minute of the 2002 World Cup that Brazil won, helping his own country become the first with five world titles on its trophy cabinet. He was also among the architects of Inter's historic hat trick, culminating in success in the UEFA Champions League and the Club World Cup. Wherever he played, his memory has been well etched in the memory of the fans and for that reason, he is a FUT Hero.
Although many fans would have wanted him in the Serie A, Lúcio's special card is from the Bundesliga. His card is very strong for a central defender; he has 83 speed and very strong defensive and physical values (93 and 90). However, its basic version with 89 rating is phenomenal and it is from the A Series. He is probably the strongest central defender in the Bundesliga and is great for creating a hybrid Bundesliga and Brazilian nationality, although initially he will be a very expensive player.
Jean-Pierre Papin – The Acrobat – 90
Let's take a look at The Acrobat, a tip with spectacular plays by the name of Jean-Pierre Papin. This legendary striker won many trophies, among which we find 4 French championships with Marseille, 2 Scudettos with Milan and the 1993-1994 Champions League also with Milan. He even won the 1991 Ballon d'Or.
Jean-Pierre Papin was a striker who regarded every ball in and near the box as an opportunity to put on a show. As a true bomber, he was capable of turning every ball he touched into gold, but above all he was a specialist in impossible goals. The harder the ball was to reach, the more he twisted like an acrobat not only to hit it, but also to impart the right force to send it into the net. Two of his goals in the 1986 FIFA World Cup enabled France to finish the edition in third place. But his famous hat trick with Olympique Marseille in the 1989 Coupe de France final led to his consecration as one of the strongest strikers of his era. The Ballon d'Or he won two years later sealed his entry into the Olympus of soccer and allowed him to be a FUT Hero.
His FIFA World Cup version is that of a forward capable of throwing into the net any ball that comes his way and his league is Ligue 1. He has good speed and dribbling values (both 85) and a mighty 94 shot. It is therefore a relentless finisher capable of scoring with any conclusion towards the goal. Its basic version has 89 rating and is very similar to the special version.
FUT FIFA World Cup heroes with 89 rating
Let's look at 6 more heroes, with a slightly lower rating than the previous ones but with the potential to make a difference on FUT. We are clearly based on their FUT Heroes FIFA World Cup version which is stronger than the basic one. 3 of these players are from the Premier League, while the other three are from La Liga, Ligue 1, and Serie A.
Ricardo Carvalho – The Anticipator – 89
The Anticipator is Ricardo Carvalho's superhero, able to read the minds of opposing attackers to take the ball away from them in any way possible. This central defender is famous for winning many trophies, among which we find the 2016 European Championship in France and the historic Champions League with Mourinho's Porto in the 2003-2004 season.
The Portuguese defender's incredible sense of anticipation has always allowed him to foil any kind of threat. He could always read his opponents' intentions before they could make their move and acted accordingly. At Porto, he went from being a semi-unknown arrival on loan to being the best player in the league. He dragged the Dragões to a 3-0 victory over Monaco in the UEFA Champions League final that has remained in history. In the years that followed, he was a major player in a Chelsea shirt with which he made 135 appearances and won 3 English championships. For these reasons, Ricardo Carvalho is a FUT Hero.
His special card is that of a fast and strong defender defensively. He has a fantastic 80 in speed, a good 83 in physique and an incredible 92 in defense. His base card is slightly less strong and has 88 overall. His stats make him an incredibly strong defender for his league, the Premier League.
Yaya Touré – The Citadel – 89
The Citadel is a mammoth midfield behemoth based on Yaya Touré who is able to hold up his team's midfield by himself. Some of the most important trophies he has won include 3 English championships with Manchester City and the Uefa Champions League with Barcelona in the 2008-2009 season.
In the 2011-12 season he helped Manchester City win its first Premier League in 44 years. That year is remembered for Kun Aguero's last-minute goal that won the title, but it would have been all for naught if the Ivorian had not scored a brace in the previous match. Protagonist of an extraordinary career at club level, and with over 100 appearances with his Ivory Coast national team. Yaya Touré was the classic player capable of carrying the team on his shoulders in the most difficult moments. He will not have a dedicated statue yet, but it is hard to find bigger FUT Heroes than him.
His FIFA World Cup version is sensational; he has all stats starting at a minimum of 82 and makes him very strong in all fundamentals. His highest values are physical, passing and dribbling (91, 88 and 87) he also has a very good 85 shooting. His base card has 87 rating and is slightly weaker, but it is still good for the Premier League.
Jay-Jay Okocha – Double Take – 89
Double Take is the illusionist superhero based on Jay Jay Okocha. The phenomenal trequartista is considered one of the best dribblers in history and has won major trophies such as the Football Olympics in 1996 and the UEFA Intertoto Cup in 2001 with PSG.
Okocha was one of the strongest African soccer players ever, capable of delivering magic on the field. Perhaps the secret that allowed him to play with uncommon class and nonchalance was the knowledge that he always had another five-star play up his sleeve. Having become the most expensive African footballer in history upon his move to Paris Saint-Germain in 1998, Okocha enchanted the global audience in Nigeria's stunning victory over Spain in the 1998 FIFA World Cup opener. He has conquered the spotlight of the most important stage and revealed his incredible talent to the whole world. In the Premier League, in a Bolton shirt, he was able to suddenly disappear and reappear where least expected, like a true magician. His extraordinary six-point goal against rivals in West Ham's salvation struggle helped reinforce his hero status.
His special card is really appropriate for his role as a trequartista; he has excellent attributes of speed, shooting and passing (89, 85 and 84), but his best stats is dribbling (94). A sensational card for his league, Ligue 1. Even its basic version with 88 rating is really strong and very similar to the one in honor of the World Cup.
Rafael Márquez – El Kaiser de Michoacan – 89
The next superhero is El Kaiser de Michoacan, also known as Rafael Márquez, famous for his matches with Mexico and for winning 2 Champions Leagues with Barcelona in 2005-2006 and 2008-2009.
The heroic deeds of this elegant defender, who starred for more than 20 years in a Tricolor jersey, have made him a true icon of Mexican soccer. Even as a young man, his legendary leadership was already evident, as evidenced by the national team captain's armband he received when he was only 23 years old and then wore in five different editions of the World Cup. Always a star of the first magnitude, Márquez formed with former Barcelona teammate Carles Puyol an outstanding pair of central defenders, winning the UEFA Champions League in 2006, the first Mexican player to achieve that feat. His incredible skills and extraordinary charisma have earned him the nickname El Kaiser of Michoacán, as well as FUT Hero status.
His new special card is as a midfielder and as a league he was obviously assigned La Liga. He is a very solid defensive halfback who recovers a lot of balls, has very strong defensive and physical values (91 and 89), as well as good values of speed, dribbling and passing. His basic version has 88 overall and is a central defender.
Javier Mascherano – Octo-Boss – 89
Let us now look at a teammate of the Kaiser de Michoacan, namely Octo-Boss also known as Javier Mascherano. The Argentine is a heroic midfielder who has enabled his Barcelona team to put two Champions Leagues, the 2010-2011 and the 2014-2015 Champions Leagues, on his trophy cabinet.
At first glance, given his stature, he might have given the impression that he was not an insurmountable wall. Once on the field, however, his inexhaustible energy, unbelievable drive, and rough contrasts made him every striker's nightmare. Mascherano seemed gifted with an extra foot, able to shut down any attack and win the ball back to get the action going again immediately. A respected leader, he wore Argentina's captain's armband during the 2010 World Cup, dragging the Albiceleste all the way to the quarters. "El Jefecito" also showed incredible adaptability, filling a new role in the center of defense and winning his first UEFA Champions League since the World Cup. Even when he was not wearing the armband, Mascherano was an example on the field for his teammates with his style of play. His incredible career filled with numerous titles and 147 appearances with the Argentina jersey, made him rightfully part of the FUT Heroes roster.
His card is very similar to the previous one; he is a halfback capable of blocking opponents' passing lines and ball carriers. His best stats are defense and physical (90 and 87), other values are also very good. His base card is very similar to this one; he has 88 rating and is a central defender.
Tomas Brolin – The Tornado – 89
The latest hero with 89 rating is The Tornado, alter ego of Tomas Brolin, a midfielder and striker famous for his seasons at Parma. With the Italian club, he won a UEFA Cup, a UEFA Super Cup and the Cup Winners' Cup.
Capable of capturing attention like few, he swept down on opponents like a tornado, leaving only rubble in his wake. Brolin's speed and agility made him a whirlwind ball and foot, allowing him to score decisive goals. One of the most important is that of Parma's 1-0 victory in the 1991-92 Coppa Italia semifinal, later won by the Ducal club. His most famous goal, however, remains the one in the quarterfinals of the 1994 FIFA World Cup. On this occasion he managed to get past the goalkeeper on the development of a well-struck free kick, dragging Sweden to an extraordinary third place in the tournament. Brolin celebrated by raising his right fist in the air and performing a 360-degree pirouette, sending teammates and fans into ecstasy. His spectacular goals and creative exultations have rightfully made him a FUT Hero.
His FIFA World Cup card is that of a complete and decisive striker in every situation, the league assigned to him obviously being Serie A. His three best stats are those of speed, dribbling and shooting (90, 92 and 92) but he also has a very good 85 passing. His base card is 87 rating and is very similar as stats.
FUT FIFA World Cup heroes up to 88 rating
Let's look at the last 11 heroes, although they have a slightly lower rating than the previous ones they are very strong cards that can improve any FUT team. We are clearly based on their FUT Heroes FIFA World Cup version which is stronger than the basic one. Most of these players are from the Premier League, but there are also players from La Liga, Ligue 1, MLS, Serie A, etc.
Claudio Marchisio – The Little Prince – 88
The first superhero of this section is Il Principino, or Claudio Marchisio, a midfielder who has linked his career almost completely to Juventus. He has won many trophies, among which we recall the 7 championships with the Bianconeri jersey.
As a midfielder, his ability to adapt to any situation, combined with the skill with which he could turn every possession into an opportunity to aim for the goal and kick at the net. Marchisio put the Bianconeri back on the Serie A throne, helping them win the first of nine consecutive Scudetti in the 2011-12 season. His nickname "Principino" derives not only for his exploits on the field, but also for the proud and elegant manner in which he performed them, such as on the occasion of the splendid goal scored in the Italy jersey during the 2014 FIFA World Cup in the Azzurri's first group stage match. His extraordinary skill, impeccable class, and connection to his hometown make him the perfect example of a FUT Hero.
His special card is that of a strong and complete midfielder, as all stats start at a minimum of 81. The best values of this card are those of dribbling, shooting and passing (87, 86 and 84) and make him a reliable and excellent player for the A Series. His basic version has 87 overall and is very solid.
Joan Capdevila – The Backfield Bull – 88
The Backfield Bull is the superhero based on the exploits of Joan Capdevila, a solid Spanish left-back who played 7 seasons for Deportivo la Coruna. With the Deportivo jersey he won two Spanish Super Cups and a Spanish Cup. He won his most important trophies with the national team, the 2008 European Championship and the 2010 World Cup.
This pushing fullback, in addition to thinking about defending, used to throw himself forward to support his teammates, because nothing could stop him from being where he was most needed. His commitment and dedication to the cause became clear during the 2010 FIFA World Cup, when he became world champion with Spain by playing every game. His one-two against Getafe in 2009 will remain etched in the memory of Villarreal fans for a long time. This one-two punch perfectly represents his constant desire to push along the sidelines and take his team higher and higher in the standings. A player who can always be counted on is what makes Capdevila a FUT Hero.
His FIFA World Cup card is that of a fullback who is useful in every area of the field and very difficult for opponents to overcome. He has all stats from 78 and up, and the top three stats are speed, defense and passing (90, 87 and 83). Its basic version has 86 rating but does not seem at the level of the special version.
Landon Donovan – The Brave – 88
The Brave is the hero of the U.S. national team, based on Landon Donovan, has tied his name to the L.A. Galaxy jersey. In his career he has won the MLS six times, the Gold Cup four times with the United States and won a myriad of individual trophies.
Landon Donovan came to prominence during his first FIFA World Cupe since then he has not stopped. On that occasion, the U.S. striker, just 20 years old, scored a goal against historic rivals Mexico, dragging the star-studded national team to the quarters. Eight years later, with time nearly running out Donovan scored the decisive goal against Algeria. A go-ahead goal that enabled the United States to win its round for the first time since 1930. 10 years after the brilliant beginnings of a career marked by show-stopping goals and true leadership performances, Donovan repeated himself by giving the LA Galaxy their fifth MLS Cup. His legacy lives on in the MLS MVP award, named for the most iconic draftee in U.S. league history. Donovan has been a hero throughout his career, always able to solve matches in the final and be a timeless FUT Hero.
His card represents the only hero in MLS, he is a really interesting ED with excellent stats of speed, dribbling and shooting (92, 87 and 90), he also has a good 83 passing. Its basic version has 86 rating and is an AT, also undoubtedly one of the strongest cards in the American league.
Harry Kewell – The Wizard of Aus – 88
The Wizard of Aus is a legendary left-handed midfielder who has also acted as a trequartista and second striker. He played many years for Leeds Utd and Liverpool, with whom he won the UEFA Champions League in 2004-2005 and the UEFA Super Cup in 2005.
Harry Kewell was already a minor phenom at only 15 years old when Leeds offered him an audition. A magician with the ball between his feet, his extraordinary ball control allowed him to make a mockery of defenders. In 2000 he was awarded best young man of the year by the PFA, while his excellent performances in the 2000-01 season enabled his club to reach the semifinals of the Champions League. "The Jewel" also transferred his superpowers to the national team, scoring a crucial goal in the 2006 World Cup that gave Australia its first qualification to the round of 16 of a World Cup in its history. Considered one of his country's best ever players, Kewell has broken down the barriers between magic and reality, making him a true FUT Hero.
His special card is really perfect for his role, he is an AT with very useful stats of dribbling and passing (both 89), he also has very good values of speed and shooting (91 and 87). Its basic version is 87 and it is an AS, both versions are very strong for the Premier League.
Dirk Kuyt – The Energizer – 88
Also in the Premier League we find the hero based on Dirk Kuyt, The Energizer. This player spent much of his career between Holland and London, winning many individual and team trophies.
If the situation appears desperate, Dirk Kuyt is the man for you. He will light up the environment with his plays, rekindle hope by dragging everyone along with his enthusiasm. Fans of any team where he played will speak of him with great admiration. He has never spared himself throughout his career, putting forth endless energy. His decisive assists in the fourth and semifinals of the 2010 World Cup proved decisive in Holland's landing in the final. Kuyt was not just an assist man for his teammates, however. In his second stint at Feyenoord, he scored a decisive hat trick for the 2016-17 Eredivisie title on the final day before announcing his retirement from playing soccer three days later. This spectacular exit makes him for all intents and purposes a FUT Hero.
His new card is that of a very useful Premier League outfielder on the right flank. His best values are those of speed, dribbling and shooting (87, 86 and 90), he also has useful stats of passing and physical (both 84). His basic version, on the other hand, has 86 overall and is a trequartista, a role that enhances his qualities even more.
Hidetoshi Nakata – Stealth Agent – 88
The Japanese midfielder is a hero called Stealth Agent and is a trequartista in this new paper. This player spent most of his career in Serie A and won Roma's historic Scudetto in 2000-2001.
This offensive midfielder was able to hide from defenders like a secret agent. He was then able to suddenly reappear to go directly to the conclusion or serve a perfect assist for a teammate. His talent and elegance convinced Parma to make him the highest-paid Asian footballer in history. The Japanese repaid the trust in the Coppa Italia first leg final against Juventus, where he scored a very important goal in a sforbiciata from inside the box. That same summer, in the World Cup in Japan, Nakata scored in the 2-0 win over Tunisia that earned his country qualification to the round of 16 and him hero status. A hero who always required full attention, able to disappear to be ready wherever he was needed, for these reasons he is a FUT Hero.
His new card has very good stats for his COC role; he has 87 in speed and dribbling and 86 in shooting and passing. A useful player with his plays both outside and inside the area. Its basic version has 87 and is very solid and similar to Worlds.
Włodzimierz Smolarek – Phase Shift – 88
The next hero is Phase Shift, based on Włodzimierz Smolarek, a Polish midfielder who spent his career between Poland, Germany, and the Netherlands. He won some trophies in Poland and the DFB-Pokal (German Cup) with Eintracht Frankfurt.
Opponents who challenged Smolarek often ended up with a fistful. The Polish hero brought an exuberant and combative attitude to the field that drove defenders crazy. When they thought they had sized him up, he would say goodbye to everyone and leave. When they tried to press him, he could jump them like skittles. When they thought they had him cornered, he would pull a surprise shot out of his hat and turn the situation around in his own favor. His ability to be uncatchable was one of the secrets that enabled Eintracht Frankfurt to win the DFB-Pokal in 1988. With his extraordinary class, Smolarek made a huge contribution to Poland's third-place finish in the 1982 World Cup, rightfully earning him a place among the FUT Heroes.
His new special card is of attacking role and is from the Polish league, he is an ATT with very strong stats. His best stats are those of speed, dribbling and shooting (94, 92 and 90), but he also has excellent passing and physical values (83 and 85). His base card is 86 rating and is from the Bundesliga, although a little less strong it is still usable in online matches.
Saeed Al Owairan – The Emerald Falcon – 88
The Emerald Falcon is Saudi Arabia's superhero, based on Saeed Al Owairan player who spent his entire career in the Al Shabab. He has won many trophies with his club including 3 Saudi championships and 2 Arab Champions Leagues.
Even when he smiles, Saeed Al Owairan is actually waiting for the right opportunity to strike. Like a true bird of prey, he pounced on the Belgium defense in 1994, scoring one of the finest goals in FIFA World Cup history. In that goal, he starts from his own half of the field and advances toward the opponent's box, jumping over five defenders before slotting the goalkeeper. Al Owairan's extraordinary speed and flair for goal helped the Saudi striker score and win in the 1993 Crown Prince Cup final. He won many other trophies with the club where he spent his entire career. This player has only played for one club and with his national team showing off incredible goals and performances, for these reasons he is for all intents and purposes a FUT hero.
His new card is a trequartista role, very fast, strong and buggy, and is obviously from the Saudi league. He has solid values for dribbling, shooting and passing (92, 86 and 83), but his best value is the maximum value for speed (99). His basic version has only 85 rating but he is AD and still has good values for his role.
Sidney Govou – The Lion of Lyon – 87
The Lion of Lyon is Sidney Govou, Lyon's superhero, as he played for 10 seasons in the Olympique Lyon jersey. He won many trophies in France with this jersey, including as many as seven French championships.
Sidney Govou is the classic hero this city needed. That makes seven Ligue 1 wins for Govou's Lyon. The French outfielder has guided OL to every league triumph in its history, winning seven titles in a row and propelling the club of his childhood into the upper echelons of transalpine soccer. In 2001 he rose to European prominence with two goals in the UEFA Champions League. Only to come to prominence in the 2006 World Cup round of 16 against Spain. A hero of skill, style, and loyalty, Govou's splendid decade in the OL strengthened the bond with his city, making him the lion of Lyon and an FUT hero.
His card is as a trequartista and from the French league, really strong for his role. He has very good stats of speed, dribbling and shooting (90, 89 and 90), and also a good 83 passing. His basic version is 86 overall and very strong for the ATT role, since he has very similar stats.
Ji-sung Park – Tigerheart – 87
This tiger-hearted superhero is famous for spending six seasons at Manchester United and for his performances with the South Korean national team. He has won many trophies, including 4 English championships, a UEFA Champions League in 2007-2008 and a Club World Cup in 2008.
It is impossible for opponents to stop him or avoid his asphyxiating pressing, so they claim he has three lungs. Those who cannot escape his sullen marking say he has two hearts. But the truth about Ji-sung Park is much more heroic; inside him beats the heart of a tiger. Not only is he endowed with uncommon stamina, but he also has tiger instincts that enable him to choose the right moment to strike. Often that moment coincides with the final stages of the match, when opponents are now exhausted. Ji-sung Park knows that a tiger does not have to wait. His stunning assist after just 36 seconds in the title match against Chelsea enabled him to win the Premier League. His goal with South Korea in the 2010 World Cup made him the first Asian footballer to score in three consecutive editions of a World Cup. For these reasons he is a true FUT Hero, unquestionably.
A balanced and complete trequartist, he has all stats starting at a minimum of 80. The strongest stats of this special card are those of speed, dribbling and passing (86, 87 and 84). It seems like a card more suited to the role of CC than COC. Its basic version has 86 rating and role is ES, however, it is much less strong than the World Cup version.
Peter Crouch – The Robot – 86
The Robot is a huge superhero based on Peter Crouch, who has spent almost his entire career on English teams. He has not won many trophies, but these include the Community Shield and the FA Cup with Liverpool in 2006.
Some heroes resemble skyscrapers. Peter Crouch was one of them. "He has a good touch for someone of his stature" was the judgment that accompanied this two-meter striker during a career spent at several English clubs. Good technique, combined with generous size, made Crouch look like the result of a laboratory experiment designed to produce the perfect soccer player. He has been a threat to defenders with both feet, as well as in aerial play, as evidenced by the record number of goals scored by headers in the Premier League. His qualities as a buoy center forward have emerged many times, such as during Liverpool's comeback in the 2006 FA Cup final, when he served a valuable assist to Steven Gerrard. In the 2006 World Cup, however, Crouch scored a decisive header goal against Trinidad and Tobago in an England shirt. His characteristic robotic jubilation has already entered legend. A fan idol, Crouch's joy and heart undoubtedly make him a FUT Hero.His card is that of a forward who plays waiting for crosses to score with his head. His highest values are in shooting, dribbling and physical (88, 80 and 81), in speed and passing he has 78 and 76. Its basic version has 85 and is very similar to this one. Both versions are not great for online matches, but he is a very buggy player in headshots