Intro
The GLORIOUS Model O is outstanding & ultralight. It is among the lightest mice we tested and has outstanding performance, with low click latency and high polling rate. While being very comfortable, with an ambidextrous design suitable for any type of grip.
The Model O could potentially change the gaming mouse landscape for the better. The value of the Glorious Model O is absurd: it offers virtually everything you could want from an ultralight mouse at a near-budget price. The Model O can easily compete with all the big names.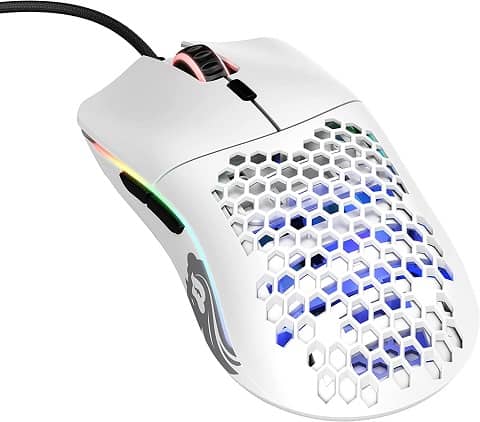 It is worth noting that this mouse is larger, and people with small hands may want to consider the GLORIOUS Model O-. For those who prefer cordless mice, a wireless version, the GLORIOUS Model O Wireless, is also available.
Technical Specifications
CONNECTIVITY
Wired – Ascended Cord (ultra-flexible)
LIGHTING
RGB
SENSORS
Optician
MAXIMUM SENSITIVITY (DPI)
12000
MAX SPEED (IPS)
650
MAXIMUM SPEED (IPS)
50
BUTTONS
6
SENSOR
Pixart® 3360 Sensor 1000 Hz polling
SIZE
Length: 128 mm
Handle width: 66 mm
Height: 38 mm
WEIGHT
67 g (excluding cable)
Quality of Construction & Style
The GLORIOUS Model O has a simple style with customizable RGB lighting along each side, on the scroll wheel and inside the mouse itself, shining through honeycomb holes. There is a logo on the side, but the rest is quite simple. This mouse is very well built and solid, and although it is made entirely of plastic, it has no breaks or squeaks. It is available in four colors: glossy white, glossy black, matte white and matte black.
The Model O has the famous honeycomb structure that made the Finalmouse so popular. Glorious executes the hole structure well, you do not feel any of the holes during play, and the result of the honeycomb structure worked in reducing weight. The Model O weighs 67 grams, making it one of the lightest mice on the market.
Gaming Experience
The Model O has 6 standard buttons, so while this obviously has a fantastic influence on the weight factor, it is not the ideal mouse for MMO players who need quick access to their hotbar. However, the buttons present are all individually programmable, even the DPI button, so you have full control over what you have at your disposal.
Although MMOs are not its forte, the Model O really shines when it comes to fast-paced hack & slash and FPS games. The Model O is said to be one of the best mice around for butterfly clicking. The Pixart PMW-3360 optical sensor has been useful to professionals. It reaches a maximum of 1,000Hz for use with the latest games-essentially, it will signal its location to the CPU up to 1,000 times per second.
But in our opinion what made the difference was the Ascend cable. It is very light and very flexible, so there is no struggle. In fact, we forgot about his presence. In addition, the feet of G-Skates are smooth as silk, so there are never any snags.
Verdict
| What We Like | What We Don't Like |
| --- | --- |
| Excellent value for money | Not suitable for small hands |
| Ultra lightweight, 67 grams | Few buttons |
| Incredibly flexible & lightweight cable | Side buttons could be better |
| Good buttons | Sides may flex inward under high pressure |
| Super smooth mouse feet | RGB not very accurate |
| Accurate with Impeccable Sensor | Requires frequent cleaning |
| Low click latency | |
| Excellent ambidextrous shape | |
For those with small hands there is the GLORIOUS Model O- version. There is also the GLORIOUS Model O Wireless. But there are also very good alternatives from other brands, You can always check out our list of the best gaming mice.